News
UPDATE: IT'S TIME TO BUY THE DISCOUNTED DOLLYWOOD TICKETS. The link to purchase the discounted Dollywood Tickets is now open. To obtain the link contact your faculty advisor. You can purchase tickets between now and September 30.
We regret that we will not be able to hold our annual Fall Rally at Dollywood this year. The difficult decision to cancel this event was made due to concerns about the spread of COVID-19 and restrictions in many parts of our district. We are extremely disappointed that we will not be able to hold the event this year.
Since we cannot hold this annual Key Club event, Dollywood is making a very special offer for members of our Kentucky-Tennessee Key Club family. 
 
Here is the offer:
-As a benefit for being part of the Kentucky-Tennessee District Key Club family, Dollywood will make tickets available to you for the extremely generous inclusive price of $48.27  (The regular Dollywood ticket price is $89.80.)
 
-Tickets must be purchased online between Thursday, September 24, and Wednesday, September 30.
-The tickets may be used one time on the date of your choice  between the date of purchase of the ticket and
  the end of the 2020 Dollywood season.
-Details of how to access and use these tickets will be distributed soon.
 
We appreciate Dollywood extending this generous offer to members of our Kentucky-Tennessee Key Club Family, and we look forward to holding our Fall Rally again in 2021. If you have questions or need more information contact Steve Phillips.
August 16, 2020
Print Me
While we can't be together in person this year for convention, Key Club International is excited to connect members from around the world for our first-ever Summer Leadership Conference. This virtual event will take place beginning Wednesday, July 1, through Friday, July 3. This FREE event is open to all Key Club members and will feature speakers, workshops and a unifying fellowship experience. We will also spotlight leaders throughout our organization with a virtual recognition session. In conjunction with the conference, members of the International Council (2019-20 Key Club International Board and 2020-21 governors) will select leaders for the upcoming service year. 
More information including the agenda and registration link is available at: https://www.keyclub.org/events/key-club-international-summer-leadership-conference/
Deadline to register is June 29 at noon U.S. EDT. 
June 18, 2020
Print Me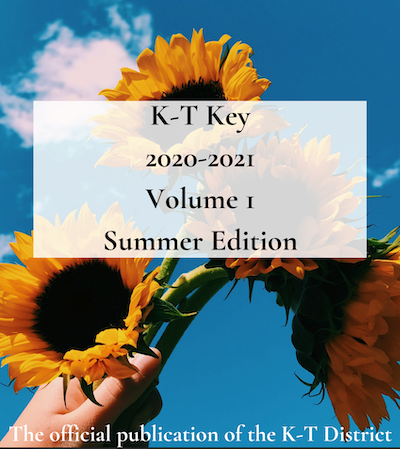 Hey, K-T!
I am Jackson Trotter, the District Bulletin Editor for the 2020-2021 year. I am excited to present to you the first volume of this year's K-T Key where you can find officer introductions, COVID-19 details, summer service ideas, and more! I hope this publication finds you well amid quarantine!
Best,
Jackson Trotter
Kentucky-Tennessee
Bulletin Editor
K-T Key | Summer 2020 (905 downloads)
June 16, 2020
Print Me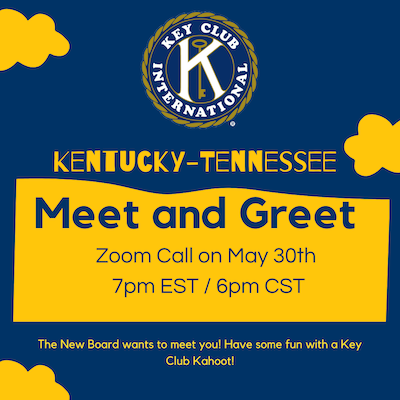 I hope everyone is well during this time of uncertainty. I know there are several restrictions, but I want to encourage Key Clubs to find a safe way to help during this time! 
My name is Lexi Evans and I am the 2020-2021 Kentucky-Tennessee District Governor!  I am a rising senior at Community High School located in Division one. I have been a member of Key Club for three years now and I have enjoyed every moment! My favorite service project is reading to children at my local elementary school. I am very excited to serve as District Governor! I can't wait to see what our District accomplishes this service year!If you ever feel the need to contact me, please do not hesitate to send me an email at lexi@ktkey.org.  I love answering questions, making new friends, and giving you any support that you may need!
As we are all aware, the 2020 Kentucky-Tennessee District Convention was unfortunately cancelled due to the COVID-19 pandemic. The District Board has been working hard to reach you and get to know you. We have watched you be fairly active during this time, as many clubs have shown love to seniors, essential workers, and anyone in need during this time.  We as a District Board want to meet you and make the most of our time together!
I would like to personally invite you to the first ever virtual Kentucky-Tennessee District Meet and Greet! The meet and greet will take place May 30th, 2020 via Zoom at 7pm/ EDT 8pm/CDT and will last roughly an hour. The meet in greet will include fun activities, including a Kahoot, and an opportunity to get to connect with fellow K-family members, including the District Board! The District Board wants to get to know you!! 
If you are on the K-T mailing list, an email with the meet and greet link will be available soon. Please do not hesitate to contact me or our District Administrator Steve Phillips (steve@ktkey.org) with any questions!
I am expecting an amazing year no matter the circumstances! Thank you KT for being strong service leaders during this time! Once again, never hesitate to reach out!
Yours in service,
Lexi Evans
Kentucky-Tennessee 
District Governor
May 19, 2020
Print Me
Thanks to the generosity of the Kentucky-Tennessee Kiwanis District Foundation and the Northside Knoxville Kiwanis Club, we are proud to present the following scholarships.
Kentucky-Tennessee Kiwanis District Foundation Ira R Gladson Scholarship of Excellence
Ashley Song, Rossview High School
Kentucky-Tennessee Kiwanis District Foundation Scholarship
Jason Catuncan, Bearden High School
Kentucky-Tennessee Kiwanis District Foundation Scholarship
Emma Keeling, duPont Manual High School
Andy Hutson Scholarship (Presented by the Northside Knoxville Kiwanis Club)
Akanee Angel, Clarksville Academy
Each recipient will receive information and instructions describing how to have the scholarship funds sent to their respective institutions of higher learning. 
Congratulations and best wishes to each recipient.
April 21, 2020
Print Me