Hello Kentucky-Tennessee!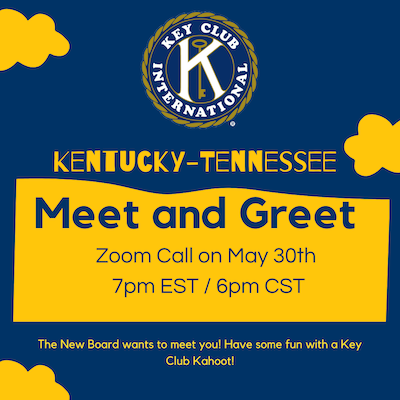 I hope everyone is well during this time of uncertainty. I know there are several restrictions, but I want to encourage Key Clubs to find a safe way to help during this time! 
My name is Lexi Evans and I am the 2020-2021 Kentucky-Tennessee District Governor!  I am a rising senior at Community High School located in Division one. I have been a member of Key Club for three years now and I have enjoyed every moment! My favorite service project is reading to children at my local elementary school. I am very excited to serve as District Governor! I can't wait to see what our District accomplishes this service year!If you ever feel the need to contact me, please do not hesitate to send me an email at lexi@ktkey.org.  I love answering questions, making new friends, and giving you any support that you may need!
As we are all aware, the 2020 Kentucky-Tennessee District Convention was unfortunately cancelled due to the COVID-19 pandemic. The District Board has been working hard to reach you and get to know you. We have watched you be fairly active during this time, as many clubs have shown love to seniors, essential workers, and anyone in need during this time.  We as a District Board want to meet you and make the most of our time together!
I would like to personally invite you to the first ever virtual Kentucky-Tennessee District Meet and Greet! The meet and greet will take place May 30th, 2020 via Zoom at 7pm/ EDT 8pm/CDT and will last roughly an hour. The meet in greet will include fun activities, including a Kahoot, and an opportunity to get to connect with fellow K-family members, including the District Board! The District Board wants to get to know you!! 
If you are on the K-T mailing list, an email with the meet and greet link will be available soon. Please do not hesitate to contact me or our District Administrator Steve Phillips (steve@ktkey.org) with any questions!
I am expecting an amazing year no matter the circumstances! Thank you KT for being strong service leaders during this time! Once again, never hesitate to reach out!
Yours in service,
Lexi Evans
Kentucky-Tennessee 
District Governor
Print Me