2022-2023 KT District Board Appointments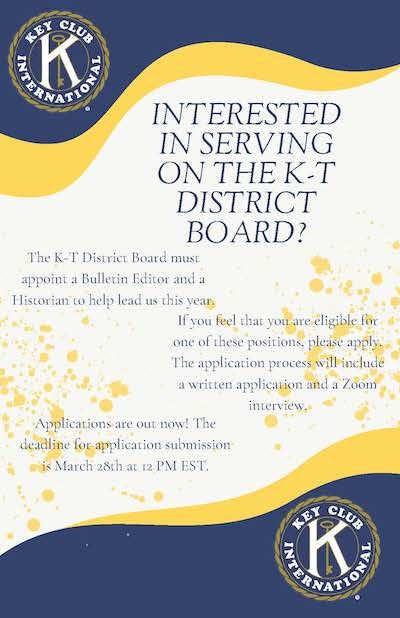 K-T,
First off, thank you all so much for attending the 76th annual Kentucky-Tennessee District Convention. It was a massive hit! It was also our first in-person convention since 2019. I was so glad to be able to talk to you and to hear all about your Key Club experiences, and to learn more about you all.
My name is Dalton Adams and I was re-elected Governor of the District. We set a good foundation last year, and I am excited to build off of it with you. It is an honor of a lifetime to serve you all. I am anticipating amazing things to happen!
However, our board is not complete, and I am calling on YOU to serve! We are in need of a District Historian as well as a District Bulletin Editor. Below are the applications to apply, I urge every single one of you to apply for one of these positions. Serving on this board is the opportunity of a lifetime. You get to meet new people, sharpen your leadership skills, serve others, and have FUN!
If you have any questions during the process, please feel free to reach out to me. Once your applications are complete, please email them to dalton@ktkey.org. There is a written application, as well as a Zoom interview. Applications can be found here:
K-T District Historian Application
K-T District Bulletin Editor Application
I look forward to hearing from you soon.
Yours in Service,
Dalton Adams
K-T District Governor
Print Me