Ronald McDonald House says, "Thank You!"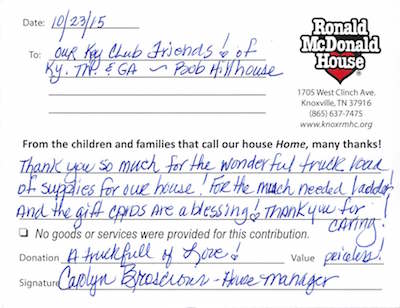 Representatives of the Ronald McDonald House in Knoxville sent this message to the K-T District in response to the items donated at the 2015 Fall Rally. The one item they mentioned specifically on the phone was the step-ladder. They only had one so they were REALLY happy to receive another!
To: Our Key Club Friends of Ky Tn & Ga c/o Bob Hillhouse
Thank you so much for the wonderful truck load of supplies for our house! For the much needed ladder and the gift cards are a blessing! Thank you for caring!
Donation: A truck-full of Love!
Value: Priceless!
From: Carolyn Broscrois – House Manager
Happy Key Club Week!
Print Me