UPDATE: Registration has been extended to February 18, 2022!
You won't want to miss the 2022 K-T District Convention! We're in-person!
District Conventions are always a lot of fun and the 2022 DCON is no exception as we host motivational speaker Judson Laipply at the K-T District Convention. We think you'll really enjoy being part of this year's conference!
This year, we're also giving you two ways to register: 1. Download, fill-out, and send your registration and check (like you've always done), and 2. Register and pay ONLINE! You will still need to download and fill out the rooming lists and send it to Steve Philips (either through email, fax, or the USPS).
Registration, as well as agenda, scholarship and contest information can be found at:
2022 Key Club District Convention Registration
Beat the rush! Start preparing for those contests NOW!
Print Me
WHERE:  Pigeon Forge, Tennessee
WHEN:  Saturday, October 16, 2021
TIME:  Park Hours: 10 AM – 9 PM
Rally:  11 AM
Meal Voucher Included
Generate excitement to start your Key Club year
Bring prospective members
Expose new people to Key Club fun and enthusiasm
Make it a Kiwanis Family outing
 Enjoy a day at a great theme park!
for only
$50
(Includes: Park Admission+Meal Voucher+T-Shirt)
This is a GREAT value as Regular Park Admission alone is $84.15!
The dress is CASUAL.
Registration: You can register and pay in two ways

For SECURE CREDIT CARD payment and registration, after August 23, 2021, go to https://www.ktkey.org/2021rally. The online registration form will be open until 11:45 P.M. on October 8, 2021.
For CHECK registration, download the registration form HERE and follow the instructions on the form.

NO REFUNDS WILL BE MADE AFTER OCTOBER 8, 2021.
If you have questions, please contact Steve Phillips at 423-508-4885 or e-mail sphillips@ktkey.org
2021 Rally (341 downloads)
Print Me
Hello, Key Clubbers!
I hope that you all are having a GREAT beginning to your summer!
As many of you all know, Key Club International was planning to hold the 2021 International Convention at Walt Disney World in Orlando Florida. However, due to COVID-19 Key Club International has made the difficult decision to cancel ICON. However, they will be hosting a virtual Summer Leadership Conference (SLC).
SLC will feature :
1. Speakers representing nonprofits that are bringing positive changes to communities around the world.
2. Workshops where Key Club members can learn about service, leadership, and club operations.
3. Online recognition that spotlights leaders making a difference in their communities.
4. Lots of fun, chances to win prizes, and fellowship — so you can get to know fellow Key Club members.
In that lineup of speakers, it will include :
1. Alex Sheen, because I said I would. Alex Sheen is the founder of because I said I would, a social movement and nonprofit dedicated to bettering humanity through promises made and kept.
2. Brandon Combs, Erika's Lighthouse. Brandon Combs is the executive director of Erika's Lighthouse, a Key Club International partner whose goal is to provide mental health resources to clubs around the world.
3. Evan Wesley, Thirst Project. Evan Wesley is the Vice President of Student Activation for Thirst Project. Evan spends his time traveling around the world speaking to middle school, high school, and college students about the global water crisis and what students can do to END it.
These are just a few of the many distinguished speakers that Key Club International has to offer this year!
Key Club members and their advisors will also have the opportunity to attend workshops focused on the following areas:
1. Raising awareness about service opportunities with the help of our student leaders and partners.
2. Building members' leadership capacity and character potential through officer training.
3. Learning the soft skills necessary to be an effective leader.
4. Providing members with innovative ways to design meaningful service projects.
5. Allowing collaboration with students from multiple Key Club districts.
I encourage you all to attend this event, It will be a great experience! The registration fee is $25, to register please visit https://www.keyclub.org/summer-leadership-conference-registration/. Registration closes on Friday, June 25th at Midnight EDT.
If you have any questions, please do not hesitate to reach out!
Yours in Service,
Dalton Adams
Kentucky-Tennessee
District Governor
Print Me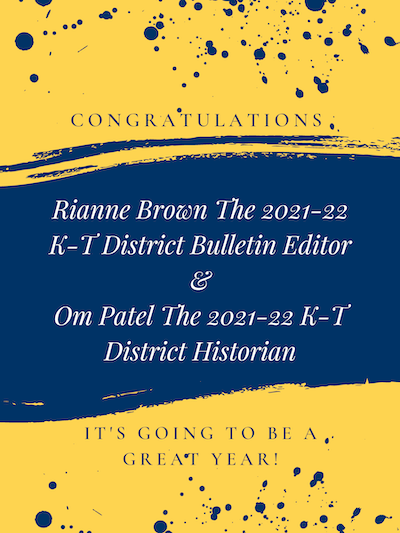 K-T,
I have the honor and privilege to announce to you all that I have selected Rianne Brown from Rossview High School to serve as the 2021-2022 District Bulletin Editor, and Om Patel from Clarksville Academy to serve as the 2021-2022 District Historian. I am extremely honored to serve alongside these two talented individuals. I know that they will keep Key Clubs 4 values in mind while serving. 
I want to thank all of you who applied for Historian and 
Bulletin Editor. It was a pleasure being able to hear from you all, and learn more about you all. Key Club needs your leadership. I am looking forward to a great year with everyone! Remember, check your emails for updates from the District, and your Lieutenant Governor. As always, if you ever have any questions or concerns please feel free to contact me.
All the best,
2021-22 | Congratulations (455 downloads)
Print Me
Dear Key Clubbers of the Kentucky-Tennessee District,
Due to many schools being on spring break I feel as though I did not give everyone a fair chance to apply for an appointed position due to the quick turn around the deadline to apply for Historian and Bulletin Editor has been extended! Applications will be extended through Saturday, April 3rd, 1 pm CST, 2 pm EST. I encourage you to apply as it will be one of the best experiences of a lifetime to serve on this board and serve this District. 
If you have any questions regarding anything, please feel free to email me. Once your applications are complete please email them to
dalton@ktkey.org
. There is a written application, and there will be a Zoom interview as well. The application to apply can be found here:
All the best,
Dalton Adams
K-T District Governor
K-T District Historian Application
Print Me