News
Hello K-T!
To start off, I would like to thank you all for the fantastic DCON attendance even though it was virtual. It was so great being able to talk to you all, meet you all, and hear about all of your stories. 
My name is Dalton Adams, and am the new 2021-2022 District Governor. I go to Bardstown High School in Division 12. It is the honor of a lifetime to serve you all, and I am anticipating great things to happen this year. 
However, our board is not complete! We are in need of a District Historian, and a District Bulletin Editor. Below are the applications to apply, and I urge you all to do so! Serving on the board is a great experience. You get to meet great people, sharpen your skills, and most importantly serve your community. If you have any questions regarding anything, please feel free to email me. Once your applications are complete please email them to dalton@ktkey.org. There is a written application, and there will be a Zoom interview as well. Applications can be found here:
K-T District Historian Application
K-T District Bulletin Editor Application

Yours in service and gratitude,
Dalton Adams
K-T District Governor
March 23, 2021
Print Me
The 74th Annual KT District Convention is, "virtually" upon us! We really hope you have registered for the convention as you, along with your fellow Key Club members will make history!
Here are a couple of links you should know about:
Registration (It's not too late!)
2021 DCON Agenda (280 downloads)
The doors virtually open Friday afternoon! We will be sending out the URL (along with the passcode that will open the doors) to all of those who have registered so don't be left out! We'll also be sending the events of the day each day to every person registered so please use an email address you check often.
We look forward to seeing(?) you!
The 2020-21 KT District Board
March 17, 2021
Print Me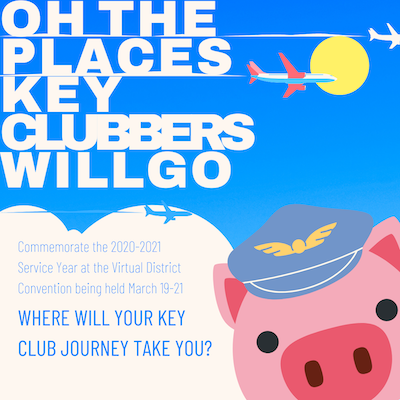 Dear Key Clubbers of the Kentucky-Tennessee District,
Registration & Contest Information is available here!
It is our honor and pleasure to invite all of you to attend the 2021 K-T District Convention, March 19–21, 2021. You will make history! This is the first virtual KT DCON EVER! You won't have to leave the house!
This year's convention is packed with engaging activities and exciting sessions. This year, our Keynote speaker is Joshua (Josh) Hiscock. Josh is the Director of Annual Giving for the University of Maryland School of Dentistry and a Lead Facilitator for Key Leaders across the country. He has a love for everything pop culture – a theme that will be woven into his message about the transformational power of leadership and social change. He is a lover of music, movies, and all things FUN! Josh will set the tone for an exciting weekend with his powerful, and compelling presentation at Friday's opening session.
At District Convention, we will have many different events and activities for everyone to participate in. We will elect new district officers to lead our district through 2022, discuss events throughout our district, and award clubs for their hard work throughout this past year. There will also be many educational and motivational workshops, where you can gather knowledge, skills, and enthusiasm to take back to your home club and community. The annual talent show will provide a chance for you to showcase your talent, virtually that is!
This year, you will have the opportunity to display your club's service activities virtually at the eighth annual Service Fair. Creating a video display for this allows your club's achievements to be seen throughout our convention by many other clubs and Key Clubbers! This has been a different year and there are many creative ideas for service that we've heard about. Show your service, online, at DCON21!
This engaging weekend will be the highlight of your Key Club year. We truly wish we were meeting in-person but we encourage you to come and make the most of all this convention has to offer. It will be an enjoyable, exciting, and memorable weekend.
We hope that your club will make plans to attend this exciting convention, virtually. This is NOT your typical online session! It's unlike anything you've seen.
The event URL will be sent out the week of DCON to all registrants.
Yours in Friendship and Service,
The Kentucky-Tennessee. District Board
January 24, 2021
Print Me
UPDATE: IT'S TIME TO BUY THE DISCOUNTED DOLLYWOOD TICKETS. The link to purchase the discounted Dollywood Tickets is now open. To obtain the link contact your faculty advisor. You can purchase tickets between now and September 30.
We regret that we will not be able to hold our annual Fall Rally at Dollywood this year. The difficult decision to cancel this event was made due to concerns about the spread of COVID-19 and restrictions in many parts of our district. We are extremely disappointed that we will not be able to hold the event this year.
Since we cannot hold this annual Key Club event, Dollywood is making a very special offer for members of our Kentucky-Tennessee Key Club family. 
 
Here is the offer:
-As a benefit for being part of the Kentucky-Tennessee District Key Club family, Dollywood will make tickets available to you for the extremely generous inclusive price of $48.27  (The regular Dollywood ticket price is $89.80.)
 
-Tickets must be purchased online between Thursday, September 24, and Wednesday, September 30.
-The tickets may be used one time on the date of your choice  between the date of purchase of the ticket and
  the end of the 2020 Dollywood season.
-Details of how to access and use these tickets will be distributed soon.
 
We appreciate Dollywood extending this generous offer to members of our Kentucky-Tennessee Key Club Family, and we look forward to holding our Fall Rally again in 2021. If you have questions or need more information contact Steve Phillips.
August 16, 2020
Print Me
While we can't be together in person this year for convention, Key Club International is excited to connect members from around the world for our first-ever Summer Leadership Conference. This virtual event will take place beginning Wednesday, July 1, through Friday, July 3. This FREE event is open to all Key Club members and will feature speakers, workshops and a unifying fellowship experience. We will also spotlight leaders throughout our organization with a virtual recognition session. In conjunction with the conference, members of the International Council (2019-20 Key Club International Board and 2020-21 governors) will select leaders for the upcoming service year. 
More information including the agenda and registration link is available at: https://www.keyclub.org/events/key-club-international-summer-leadership-conference/
Deadline to register is June 29 at noon U.S. EDT. 
June 18, 2020
Print Me